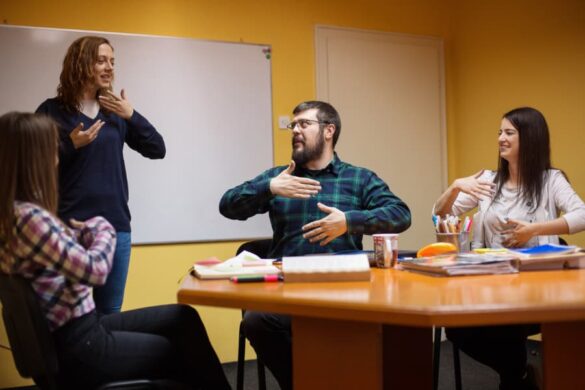 Are you ready to learn something new or advance your current skill set? Liberty Resources Home Choices is committed to your independence and supports you on your journey toward personal growth and betterment through our skills training classes. Serving the Philadelphia metro area, our home care team prides itself on being a valued resource within the community. Find out more about our classes and peer support groups for seniors and people with disabilities.
Disability Inclusion
At Liberty Resources Home Choices, we believe that disability inclusion is essential to one's quality of life. This means having equal opportunities to build more relationships, become employed, and participate in community events and leisure activities. And inclusion is more than just encouragement – it also involves ensuring the proper resources and policies are in place to make this possible within the community.
Our goal is to help you gain, maintain, and improve the essential skills you need to live independently in your own home and thrive. Whether it's learning the basics of health and wellness or finding the best ways to use local resources to your advantage, our classes are geared toward all abilities and lifestyle needs.
Personal Growth and Development
For many people, the journey toward personal development yields several positive outcomes. Peer groups, educational classes, and inclusionary activities aren't just a great way to learn something new – they're also a way for you to connect with other people who share similar experiences and challenges. Some of the benefits of involvement include:
Overall lifestyle satisfaction
Lowered risk of isolation
Increased civic engagement
Strengthened practical and social skills
We believe everyone is entitled to equal access to opportunities in their area and should be able to participate in all aspects of life. If you need a ride to one of our classes or group sessions, Liberty Resources Home Choices can help you get there through our reliable transportation services.
Please note: For details on specific times, dates, and locations, reach out to our office. This is the best way to receive the most current information.
Our Training Programs and Classes
Our skills training classes are person-centered and support our mission of helping aging adults and people with intellectual and physical disabilities live as safely and independently as possible. While they are updated regularly, some of the classes we've offered include:
Financial literacy and money management
Nutrition and cooking
Consumer rights and responsibilities
Managing caregivers and self-advocacy
How to use public transportation
In addition to these and other programs, we offer in-person and virtual social groups. For those seeking ways to maintain their physical health, adaptive yoga classes and access to Sweat Fitness gym memberships at discounted monthly rates are available.
Our Experience in Advocacy and Support
Through Liberty Resources Home Choices, you can broaden your network and take control of your well-being. We provide behavioral support, which includes comprehensive assessments and strategies, and referrals to in-home caregivers. Our home care agency also offers the following:
Blind and low-vision social and support groups
Mental health challenges peer support groups
Deaf social groups
Housing counseling services
Youth mentorships
Additionally, our nursing home transition program assists people with disabilities who wish to move to a residence. Whether it means outfitting your home for safety or providing access to handicap showers, Liberty Resources Home Choices offers a wide variety of services to help make your transition feel as smooth as possible.
Join a Class or Peer Group Today
We believe that support is just as important outside the home as it is inside. Helping seniors and people with disabilities live independently is the cornerstone of our organization. These and other local events are designed to help you strengthen your skills and stay actively engaged with your community, so you can remain at home and in control of your decisions.
A branch of Liberty Resources, Inc., the Center for Independent Living, Liberty Resources Home Choices is a non-profit agency with offices in Philadelphia and Allentown, PA. We are partially run by people with disabilities and have a decades-long history rooted in advocacy. For more information about our in-home care services or current class schedule, contact us today.