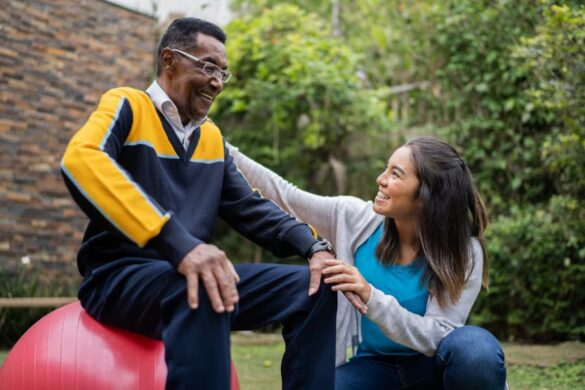 If you or a loved one needs additional support at home, our team is available to assist. Our lifestyle support services make it easier for disabled individuals throughout our community to maintain normal daily routines and live as independently as possible. Serving the Philadelphia metro area, Liberty Resources Home Choices coordinates with each disabled individual and senior to create a customized home care plan based on their needs and circumstances.
Finding the Ideal Home Care Solutions
Our approach to care begins with you. We understand that living independently in the comfort of your home may be challenging at times, and every disabled individual and senior needs a different level of support. The Liberty Resources Home Choices team of caregivers is available to create a flexible, personalized schedule that suits you best. Through our services, disabled individuals can get the help they need to eat nutritious meals, stay physically active, participate in the activities they love, and much more.
Some disabled individuals and seniors need long-term help at home, while others may be recovering from an injury or surgery and need only temporary support. No matter the case, our goal is to provide the resources you need to live a healthy, fulfilling life.
Our Lifestyle Support Services
The lifestyle support services at Liberty Resources Home Choices encompass several tasks. They can be scheduled hourly or on an as-needed basis – whichever works best for each individual and helps them seamlessly and comfortably maintain daily life. These home care services can be used to fully support a disabled individual or complement the routine care provided by a family caregiver. Our lifestyle services include the following:
Meal Preparation
Eating nutritious meals is a big part of staying healthy. Our caregivers can help you ensure you have healthy meals at your disposal and prepare them for you in your home. We'll work with you to find delicious meal options that appeal to your individual needs and tastes.
Exercise and Activity Assistance
For those who need help staying active, our caregivers are ready to assist. Regular physical activity is important to mental and physical well-being. Whether you need help performing specific exercises or doing the recreational activities you enjoy, our team can provide the personalized support you need.
Light Housekeeping
Let us help you keep your home in order. Maintaining a clean, organized home helps create a safer, more comfortable place to live. Our team can help with a variety of light housekeeping tasks suited to your place of residence.
Laundry Services and Bedding Changes
Receive assistance with your laundry from our team. We can help ensure you have clean, folded garments to wear and change the linens on your bed regularly.
Grocery Shopping and Other Errands
We can take care of everyday errands to local stores for you. Our caregivers can deliver everything on your grocery list, pick up prescriptions, and take care of a variety of other tasks.
Transportation
Access reliable transportation through Liberty Resources Home Choices. Our trusted, responsible drivers can help you reach social and recreational activities safely and on time.
About Our Caregivers
At Liberty Resources Home Choices, personal independence is paramount. We can help you receive the best possible outcome while being in full control of your daily care and decisions. And your safety is our top priority. Our attentive caregivers must complete the following:
Criminal background check
Child abuse clearance
FBI clearance
It's also our priority to provide caregivers who are compassionate, competent, and have a high level of integrity to ensure an ideal fit. If a disabled individual or seniors feels that an assigned caregiver isn't the right match, we will refer another caregiver as soon as possible and do so at no additional cost. Our team continuously screens caregivers above and beyond the current demand to ensure we can help everyone who seeks our services.
Schedule In-Home Care Services Today
Let a member of the Enrollment Team at Liberty Resources Home Choices help you or a loved one get the services needed to lead a healthy, independent life. We can meet with you for an in-home consultation and discuss each individual's daily lifestyle needs. Following this visit, we can typically refer a professional caregiver within 24 hours. We are located in Philadelphia and Allentown, PA. Learn more about us and the home care services we offer, and contact us to schedule an appointment today.