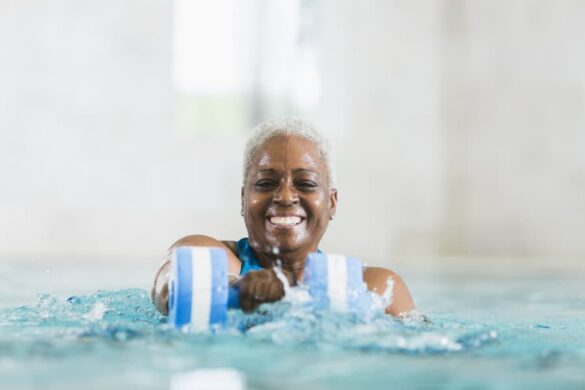 We understand how important staying physically active is to your mental, emotional, and physical health. As part of our lifestyle support services, caregivers from Liberty Resources Home Choices can help you maintain your regular exercise routine at home or with others in your community. We proudly serve the Philadelphia metro area, as well as Eastern Pennsylvania, with home care support on an hourly or as-needed basis. Find out how our caregivers can support exercise for elderly and disabled individuals.
Guiding Exercise for Seniors and Individuals With Disabilities
The health benefits of physical activity cannot be overstated. According to the Centers for Disease Control and Prevention (CDC), staying active is vital to your well-being – it can help you sleep better and feel better (physically and mentally). A regular exercise routine also can help in the following ways:
Reduce anxiety and depression
Increase energy levels
Encourage cognitive health
Improved balance (which helps decrease fall risk)
Weight management
Strengthen bones and muscles
Minimize the risk of developing heart disease or type-2 diabetes
Help manage chronic conditions and disabilities
Research indicates that seniors and people with disabilities should perform at least 150 minutes of moderate physical activity throughout the week, plus muscle-strengthening exercises 2 days per week. If you need help staying active, your assigned caregiver can ensure you're exercising safely and correctly in the house or outside.
Finding the Ideal Exercise Routine for You
There are many ways for the elderly and people with disabilities to stay active – it's all about finding the right exercises for your body. The first thing you should do is discuss some options with your physician. A medical professional can recommend simple exercises that target different areas or help you maintain your overall health, with or without the use of assistive devices. These may include:
Accessible yoga
Brisk walks
Dance
Dumbbell exercises
Resistance band workouts
Bodyweight workouts
Water aerobics
Cycling
Once you've found the exercises that work best for you, we can find ways to provide support. Our caregivers can assist with light exercises at home and outdoors as needed. We also can help you get to personal and group exercise classes in your community.
Please note: We provide non-medical services. Exercises should be performed as recommended by a healthcare professional.
Get Help With At-Home Physical Therapy Exercises
After suffering an injury, accident, stroke, or undergoing surgery, many patients need physical therapy to maintain or restore mobility. Physical therapy helps strengthen different muscle groups, restore range of motion, and provide much-needed pain relief. During and after physical therapy treatment, many physicians provide a list of recommended exercises for patients to complete at home – and this is where Liberty Resources Home Choices can help.
Our caregivers can ensure you or your loved one is performing these at-home exercises as often as recommended and as safely as possible. We can do the following during a visit:
Help you reach the ideal area of your home to exercise
Provide support for complex motions
Monitor the activity for safety
Along with practical assistance, our caregivers provide mental and emotional support, as well. We are here to cheer on those we serve and provide the encouragement they need to keep pushing forward.
Incorporating Exercise Support Into Your Care Plan
If you know you'll need light exercise support at home, our caregivers are available. Making exercise an integrated part of your daily routine is as simple as adding it to your personalized care plan. When you design a plan with a member of our Enrollment Team, let them know that exercise support is something you'll need to include. If you find that it's more enjoyable to exercise with an instructor or others within your community, our transportation services can help you get there on time.
If your needs change in the future, we can always adjust your care plan accordingly – you have full control over the caregiving services you receive from Liberty Resources Home Choices.
Create Your Care Plan Today
Learn more about us and how we can help you maintain your independence and stay physically active. The Liberty Resources Home Choices team is available to answer any questions you have about our services and the care plan creation process. For more information about how exercise for elderly and disabled individuals is supported by our caregivers, contact us today.