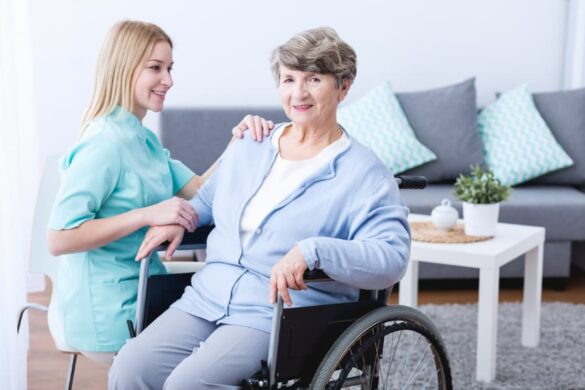 We can help you or a loved one with everyday tasks in the comfort of your home. Liberty Resources Home Choices provides a wide range of personal care services to disabled individuals across the Philadelphia metro area, as well as Eastern Pennsylvania. Our caregivers are trained to respectfully assist those in need with the goal of preserving the dignity and independence of people with disabilities and seniors.
Living Independently With Support
Having in-home support doesn't mean you're relinquishing your independence – it means you gain the help you need to live a healthy, fulfilling life. With assistance from our caregivers, disabled individuals can maintain a normal daily routine in a familiar environment. At Liberty Resources Home Choices, we provide in-home care services on an hourly or as-needed basis, so everyone can receive the individualized level of support they need to thrive.
When it comes to assigning caregivers, we work with each family to establish an ideal match. If at any time you feel the assigned caregiver isn't a great fit, we can provide a replacement at no additional cost. What's more, each caregiver is trained to put your personal needs and preferences first to foster positive experiences and outcomes for all.
Our In-Home Personal Care Services
Maintaining the dignity and self-esteem of all of our seniors and disabled individuals is of the utmost importance to our team of Liberty Resources Home Choices caregivers. Our personal care services incorporate several daily tasks, including the following:
Medication Reminders
Proper medication management is an important part of maintaining overall wellness. Our in-home care team is careful to ensure disabled individuals and seniors remember to take prescribed and over-the-counter medications on time and as specifically directed by their physician.
Mobility and Transfer Assistance
From enjoying the great outdoors to basic mobility assistance inside the home, our caregivers can help you walk safely. Our team also can help you transfer between your bed and wheelchair at the start or end of the day.
Bathing, Dressing, and Grooming Assistance
Let us help you with everyday personal tasks. Whether you need help safely showering, getting dressed, brushing your teeth, or performing other grooming tasks, our attentive caregivers can help you maintain personal hygiene and get ready for the day.
Toileting and Incontinence Care
We understand that our disabled individuals and seniors may experience varying levels of incontinence. Taking a mindful, caring approach, our caregivers help with toileting and other related tasks.
Safety and Fall Prevention
At Liberty Resources Home Choices, safety is our top priority. Our coordinators can work with you to help prevent falls inside and outside your home. Whether it's outfitting or retrofitting your house, installing handicap showers, or providing vital recommendations, a variety of services are available.
Family Status Reporting
We understand that working with our disabled individuals and seniors means coordinating with their loved ones and family caregivers, as well. Our team routinely communicates with family members, providing updates and sharing any concerns that may arise, to help ensure the everyone is well cared for beyond our scope and everyone involved is on the same page.
Receiving Home Care Services From a Trusted Provider
For the safety and peace of mind of each disabled individual and senior and their loved ones, every caregiver hired by Liberty Resources Home Choices is carefully screened for integrity, compassion, and competence. Our caregivers also undergo a thorough background check, which includes the following:
Child abuse clearance
FBI clearance
Additionally, there are several ways to compensate for home care, such as private pay, long-term care insurance, and Medicaid waiver. We have access to the services from the Community HealthChoices (CHC) program and are an enrolled provider with the following organizations:
UPMC Community HealthChoices
Keystone First Community HealthChoices
AmeriHealth Caritas
PA Health & Wellness
Book a Consultation With Our Home Care Enrollment Team
Let us help you or your loved one live well. Located in Philadelphia and Allentown, PA, Liberty Resources Home Choices is here to provide the personalized level of support our disabled individuals and seniors needs. Find out more about us and how our personal care services can help. During our in-home consultations, we discuss your short-term or long-term needs, and a professional caregiver typically can be assigned within 24 hours of this visit. Contact us today to schedule an appointment.