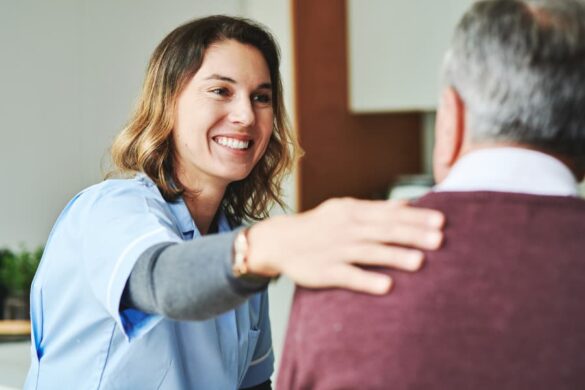 At Liberty Resources Home Choices, our primary goal is to help people with disabilities live as independently as possible in our communities. Serving the Philadelphia metro area and Eastern Pennsylvania, we were established by Liberty Resources, Inc. Let us help you better understand how we can help you. Find out more about us and get answers to your questions below.
Does Receiving Home Care Mean I've Lost My Independence?
No. We believe independence starts with being in control of your life and your decisions. Our in-home care services are determined by our consumers. Each individual is involved in the development of their own unique care plan and services needed.
While some people with disabilities and some seniors may just need a little help to continue living safely in the comfort of their home, others may be recovering from a fall or surgery and require additional assistance. No matter the level of need, we aim to help you achieve the best possible outcome while remaining in full control over your care and daily decisions.
Who Do You Serve?
We serve seniors, as well as people with physical and/or intellectual disabilities.
What Services Do You Offer?
We offer non-medical personal care and lifestyle services to suit the diverse needs of seniors and people with disabilities. We also offer respite care to complement the support provided by family members. Visit our services page for more information.
How Do You Pair Me With a Caregiver?
Matching seniors and people with disabilities with caregivers is a simple process. After a brief phone call with a member of our Enrollment Team, you'll receive an in-home consultation. Here, we'll discuss our services and gain a better understanding of your needs. We typically meet with the consumer and their family caregivers. Anyone else involved in paying for home care services also should be present.
After this visit, we will assign a professional caregiver to your home (typically within 24 hours).
What Happens if My Caregiver Isn't a Good Fit?
We want everyone to feel comfortable with and confident in their caregiver. If at any point you feel your assigned attendant isn't a good fit, we'll provide a replacement as soon as possible.
What Will My Care Plan Look Like, and Can It Be Changed?
The details of your care plan are fully customizable to meet your needs and preferences. It's carefully created by you, your support coordinator, your physician.  Our services are scheduled on an hourly or as-needed basis, and established plans can be changed as your needs evolve in the future.
How Can I Pay for In-Home Care?
While we accept private payments out of pocket, many of our consumers use long-term care insurance and Medicaid waivers. In Pennsylvania, we also provide services through the Community HealthChoices (CHC) program.  Liberty Resources Home Choices also is enrolled as a provider with the following:
PA Health & Wellness
UPMC Community HealthChoices
Keystone First Community HealthChoices
AmeriHealth Caritas
How Are Caregivers Screened?
The caregivers at Liberty Resources Home Choices are thoroughly vetted to ensure the safety of our consumers. Each applicant must pass the following evaluations:
What Qualities Do You Look for in Caregivers?
Every consumer and family should feel that they're working with a caregiver they can trust. And we understand how important it is for caregivers to treat seniors and people with disabilites with kindness, respect, and dignity, regardless of the services they're providing. In addition to professional qualifications and competency, we also screen for integrity and compassion. Many of our referrals come from word of mouth from other satisfied clients.
Why Should I Apply to Work for Liberty Resources Home Choices?
We truly care about our consumers and employees. Our direct care workers receive health benefits after qualification. To show our appreciation, we also offer special events and prizes. Extended education and training opportunities are available.
Where Can I Work?
Our direct care workers may work in a region that's close to home. Our services extend throughout the Philadelphia metro area, as well as Eastern Pennsylvania.
What Shifts Do You Offer?
You can choose from a variety of shifts, day or night. As an ever-growing organization, we are available 24/7 and offer the flexibility to work around your schedule.
Do You Hire W-2, 1099 Employees, or Private Contractors?
The direct care workers at Liberty Resources Home Choices are part of a team. As an employee, payroll taxes are automatically deducted from your weekly paycheck. We are fully bonded and insured, and we support you every step of the way.
Get in Touch With Liberty Resources Home Choices
If you or a loved one needs in-home care services, simply call Liberty Resources Home Choices at 267-765-1550 (Philadelphia, PA) or 888-879-1444 (Allentown, PA) to set up a consultation. You also can fill out the form on our contact us page, and a member of our team will reach out as quickly as possible.