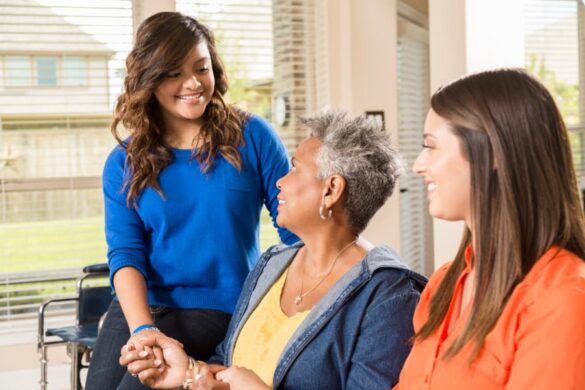 With the ideal support systems in place, you or a loved one can live safely and comfortably at home. Located in Philadelphia and Allentown, PA, Liberty Resources Home Choices offers non-medical home care and other services to people with disabilities and seniors across the area. We are committed to helping families in need while empowering them to remain in full control of their support. Learn more about the process of finding a caregiver in partnership with our organization.
What Is a Caregiver?
A caregiver assists in the daily needs of another person, such as an aging adult or someone with a disability. They also may assist a patient at home who is recovering from an injury or illness. While many family members consider themselves caregivers to their loved ones, professional caregivers are paid for their services and are trained to provide a wide range of support. Common types of professional caregivers include:
Personal care attendants
Licensed Practical Nurses (LPNs)
Certified Nursing Assistants (CNAs)
Depending on the caregiver's level of expertise and what the individual needs, one professional may suit a family better than another. Finding the right match is important in cultivating the relationship.
Matching Caregivers
Liberty Resources Home Choices, a division of Liberty Resources, Inc., the Center for Independent Living in Philadelphia, PA, can connect you or a loved one with caregivers and other essential services. A caregiver should meet the person's immediate needs while helping them feel comfortable. Many of our referrals come from word of mouth from other satisfied members, but we're always screening caregivers beyond current demand to ensure people throughout our community can receive the help they need quickly.
Our caregivers provide non-medical home care services, including:
Personal care
Lifestyle support
Homemaking assistance
Respite care
Our team strives to make finding a caregiver feel as quick and simple as possible. After connecting with our Enrollment Team, we will conduct a brief telephone interview to better understand your needs. Next, we arrange an in-person consultation. This meeting should include anyone involved in selecting a caregiver and paying for in-home care. In many cases, Liberty Resources Home Choices can assign a caregiver within just 24 hours of the in-home visit.
Scheduling In-Home Care
The caregivers from Liberty Resources Home Choices are accessible when you need them most. Our team is always available to help you create a personalized schedule that works best for you or your loved one. Some of the benefits of working with our organization include:
24/7 support access: We work around your schedule, whether it's on a part-time or full-time basis.
Fast, flexible scheduling: We know that sometimes unexpected circumstances arise, and your needs may evolve in the future. If adjustments to the current schedule need to be made, we're only a telephone call away.
Quality assurance: Our caregivers are carefully selected for competency, compassion, and integrity. All our employees must complete screenings, such as a criminal background check and child abuse clearance, to help ensure the safety of you or your family member.
Our caregivers typically are scheduled on an hourly or as-needed basis to suit a broad range of needs. They are trained to help you with a variety of activities and enable you to maintain your daily routine in your home surrounded by our pets and personal belongings.
Paying for a Professional Caregiver
People with disabilities and seniors may pay for these services in a variety of ways. Liberty Resources Home Choices accepts Medicaid, long-term care insurance, and private payments. We can provide services through the Community HealthChoices (CHC) program and are an enrolled provider with these partners:
AmeriHealth Caritas
UPMC Community HealthChoices
Keystone First Community HealthChoices
PA Health & Wellness
Please note: If an assigned caregiver isn't an ideal match for you or a loved one, Liberty Resources Home Choices will refer a replacement at no additional cost.
Reach Out to Our Enrollment Team Today
Let Liberty Resources Home Choices be your connection to the personal care attendants, LPNs, CNAs, and other types of in-home caregivers throughout the Philadelphia metro area. For more information about us or to book a consultation, contact us today.