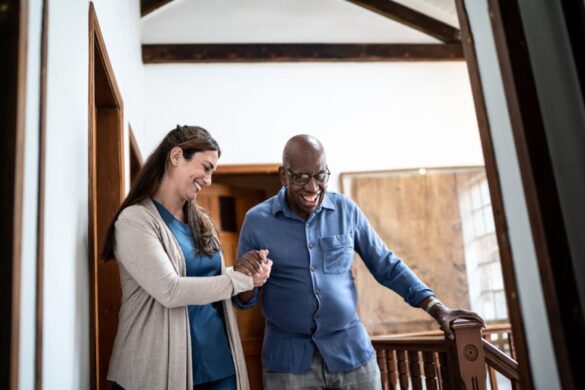 Receive reliable in-home care services that support the unique needs of you or your loved one. Liberty Resources Home Choices offers a wide range of services for disabled individuals on hourly or as-needed scheduling. Find out more about us and the services we provide throughout the communities in the Philadelphia metro area and Eastern Pennsylvania.
Customized Caregiving Services
At Liberty Resources Home Choices, our goal is to help our disabled individuals and seniors live as independently as desired, in their own homes. This means that each support plan is custom-tailored to the needs of each individual. Our scheduling coordinators work with each consumer and their loved ones to ensure a trusted caregiver will be available to provide the ideal level of support when it is needed most, whether it's getting dressed each morning, weekly meal planning, or running errands.
Our team understands that everyone has unique needs and preferences, especially when it comes to their everyday routine. Liberty Resources Home Choices provides a flexible plan that works best for you and ensures you're paired with a caregiver you trust. Our caregivers undergo a thorough vetting process that goes beyond background checks to include compassion, integrity, and competency at the forefront. This helps ensure the safety and comfort of every disabled individual and senior.
Each disabled individual and senior have full control over their level of care. If the original scheduling plan needs to be adjusted or a caregiver is not an ideal fit, our team is happy to make these changes.
Our Personal Care Services
Personal care is important to overall wellness. With dignity and respect at the heart of everything we do, our in-home caregivers provide a wide variety of personal care services. Our level of assistance extends to the following:
Bathing, dressing, and grooming
Toileting and incontinence care
Mobility inside and outdoors
Transfers from a bed to a wheelchair
Medication reminders
Home safety and fall prevention
Liberty Resources Home Choices understands how important it is to communicate with loved ones and family caregivers to ensure everyone involved is informed. Our attentive caregivers take care to provide detailed status updates and will share any concerns that may arise.
Our Lifestyle Support Services
Living a full, healthy life involves taking care of your surroundings, eating well, staying active, and ensuring your social and emotional needs are met. No matter what is on the agenda, your safety and well-being are our top priority. Liberty Resources Home Choices provides a wide variety of lifestyle support services, such as:
Meal preparation and nutrition guidance
Light housekeeping
Laundry care
Bed linen changes
Grocery shopping and other errands
Assistance with light exercise and outdoor activities
Transportation to social and recreational activities
Where would you like to go? What needs to be done today? Our caregivers listen to the needs and preferences of each individual to ensure positive experiences.
About Liberty Resources Home Choices
We know how important it is for you to be a part of your community and have agency over your own life. A division of Liberty Resources, Inc., a not-for-profit organization in Philadelphia, PA, Liberty Resources Home Choices exists to help disabled individuals and seniors live as safely and independently as possible. Our organization has served communities for decades and we are proudly operated by people with disabilities.
We can help disabled individuals transition from a nursing home to a home setting, assist with access to increased accessibility such as accessible bathrooms, and much more. Liberty Resources Home Choices uses government grants to help our valued consumers and can provide services from the Community HealthChoices (CHC) program. Services may be covered using private payments, long-term care insurance, and Medicaid waiver. We are an enrolled provider with the following:
AmeriHealth Caritas
PA Health & Wellness
UPMC Community HealthChoices
Keystone First Community HealthChoices
Get Started with Our Enrollment Team
When you or a loved one needs in-home assistance, call our organization. Liberty Resources Home Choices has locations in Philadelphia and Allentown, PA, and we're on call 24/7 to meet our consumer's needs. Our Enrollment Team is available to answer any questions you may have about our services and can recommend a customized care plan that fosters safe, healthy, independent living. Contact us for more information or to schedule an in-home consultation today.