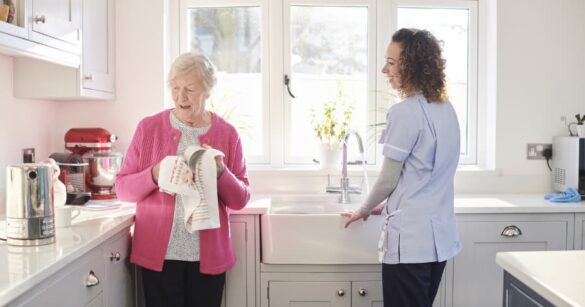 A little help can go a long way on your journey to living independently in the comfort of your home. This is especially true when it comes to home cleaning and organization. Liberty Resources Home Choices offers a wide range of home care services to seniors and people with disabilities across the Philadelphia metro area and beyond. Learn more about us and the homemaker services we offer.
Receiving In-Home Housekeeping Assistance
Home care aides are hired for many reasons. For seniors and people with disabilities, finding someone trustworthy to help with everyday tasks around the house is essential to safe, independent living. Our light housekeeping services are designed to maintain a person's overall health and quality of life. We help you:
Maintain a tidy home: From the kitchen to the family room, it's easy for clutter to build up in the areas you most use in your home. With the help of your caregiver, you can work together to ensure your house stays tidy and organized.
Preserve personal safety: Misplaced belongings and clutter don't just look messy – they also can pose a safety risk. Keeping your home clean minimizes your risk of tripping, falling, and getting injured in the place you love most.
Keep your house sanitary: Regularly cleaning your home helps prevent the spread of germs and bacteria that cause common illnesses. With the help of a caregiver, you can ensure your surfaces are routinely disinfected and sanitary, especially in kitchens and bathrooms.
Maintaining a tidy home can be challenging for anyone, but this is especially true for aging adults and people living with disabilities. For these individuals, certain items may be out of reach and some cleaning tasks may be physically challenging or unsafe. In partnership with a home care agency, light housekeeping services make it possible for those in need to live healthy lives.
Tips for Meeting With Your Home Care Agency
There may be several things you can do around the house, and you may greatly enjoy doing those everyday tasks by yourself. Handling these on your own can help you get up and moving, maintain your usual routine, and see to it that your belongings are exactly where you can find them. Before meeting with a representative from Liberty Resources Home Choices, ask yourself the following questions:
What tasks can I safely and realistically handle regularly?
Do I need help throughout the house or just in specific rooms?
What will I need help with in the future as my needs change?
Are there some cleaning products I prefer using over others (fragrance-free, bleach-free, etc.)?
Which tasks can I hand over right now and which ones might I feel more comfortable handing over after getting to know my caregiver better?
We understand that your home and everything in it is personal. The light housekeeping services provided by the caregivers at Liberty Resources Home Choices are tailored to your needs. We'll work with you to find ways to support you right now, and this plan can change if you ever need surgery or are otherwise unable to take care of certain tasks in the future.
Our Homemaker Services
Our homemaker services make it easier for people to maintain their private residences. While Liberty Resources Home Choices is not a full-service cleaning company, our caregivers can lend a helping hand with light housekeeping tasks. These may include:
Putting groceries away
General tidying up
Changing bed linens
Folding and putting away laundry
Wiping down countertops and stoves
Washing dishes
Sweeping and vacuuming floors
Dusting surfaces
Taking out the trash
Our caregivers are detail-oriented and aware of the best practices for cleaning and maintaining the average home. Additionally, they perform these and other services with your preferences in mind to ensure the assigned tasks are completed just the way you like.
Every care plan is carefully crafted by our certified care managers, your physician, and input from your family and our caregivers are screened for competence and compassion. However, if you feel an assigned caregiver is not an ideal match, we can refer another professional at no additional cost.
Find a Trustworthy Caregiver to Help Around the House
Make our homemaker services part of your home care plan. At Liberty Resources Home Choices, our goal is to develop a well-balanced plan that meets the unique needs of the people we serve and supports their desire to live independently. Our offices are in Philadelphia and Allentown, PA. Contact us to schedule an appointment today.