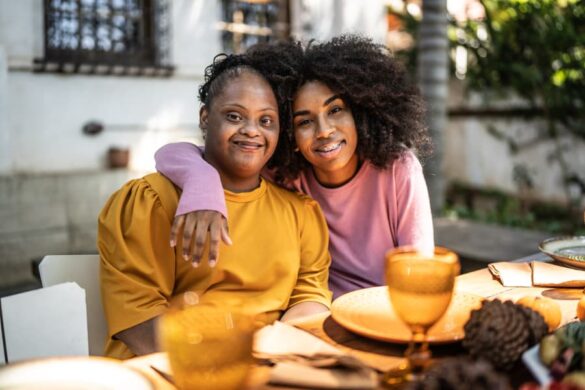 Everyone needs someone they can lean on – even at home. Liberty Resources Home Choices provides companion care services for people with intellectual and developmental disabilities in the Philadelphia metro area. Our organization was established by Liberty Resources, Inc., the leader in independent living in Philadelphia that advocates for equal access within the community. Through our companion services, you or your loved one can enjoy a more personally fulfilling, independent life.
What Are Companion Care Services?
Caregivers can do much more than help you or a loved one around the house. Non-medical companionship services from a trusted organization can help individuals with intellectual and developmental disabilities broaden their essential support systems in meaningful ways. Some of the benefits of this type of service include:
Independence
A little help can go a long way. With a caregiver on hand to assist when your loved one needs it most, they can continue to live as independently as possible in the comfort of their home.
Social Interaction
Many people with intellectual and developmental disabilities are at greater risk of isolation from their friends, family, and community. An at-home companion caregiver can help ensure they maintain a healthy social life and continue to participate in the activities they enjoy while combating loneliness, depression, and other mental health concerns.
Safety and Accident Prevention
Do you worry that you or a loved one may get injured while at home alone? Through companion care services, you can enjoy greater peace of mind. A caregiver can be there to provide personalized support on an as-needed basis and even provide medication reminders.
Emotional Support
Not every day will be easy, but a caregiver can be there to provide emotional support. They can discuss concerns with you, provide valuable advice, and even just listen when you need someone to lean on.
While accepting the help of a caregiver may seem like a loss of independence, we believe it's quite the opposite. A companion can broaden your horizons and enhance your ability to make the best choices for you, ranging from significant life decisions to your daily routine.
Our Companion Care Services
Companion care is available from Liberty Resources Home Choices for individuals age 18 and older who are living in a private residence. Caregivers provide supervision to ensure the safety of the individual, assisting them with daily tasks. They also aid in social, emotional, and physical well-being. Beyond the services typical of a home health aide, a caregiver can be a trusted friend who spends quality time with you or your loved one. You can participate in many activities with your companion from Liberty Resources Home Choices, including:
Play board games
Make crafts
Watch TV and movies
Share nutritious meals
Go for walks around the neighborhood
Run essential errands
Attend exercise classes
We know how important it is to find someone who treats you with compassion, dignity, and respect. Our caregivers are extensively screened to ensure the safety of each individual we serve. A companion caregiver from Liberty Resources Home Choices will arrive for regular visits on time and on your schedule, so you'll know exactly when and where to expect them.
Making Companionship Part of Your Care Plan
At Liberty Resources Home Choices, each hourly care plan is personalized to meet the unique needs of the individuals we serve. You or a loved one can reach out to our enrollment team to initiate the process. Then, we'll schedule an in-home consultation to gain greater insight into your needs. This in-person meeting should include the individual as well as anyone else involved in paying for companion care services. After this visit, a caregiver will be assigned.
Care plans are fully customizable. Our caregivers are on call 24/7 for wide-ranging accessibility. Regular quality assurance helps ensure the needs of our individuals and families are met. Plus, fast and flexible scheduling makes it easy to adjust your care plan if the need arises.
Our goal is always to ensure caregivers and individuals are an ideal match, but this is especially important for families requesting companion care services as part of their plan. If you or your loved one feels an assigned caregiver isn't a good fit, we'll select a replacement.
Connect with Our Caregivers
With the right level of support and companionship in place, your loved ones can live more independently in the home and community they love. Discuss your needs with our enrollment team. Liberty Resources Home Choices has a wide variety of options for people with disabilities, including home outfitting/retrofitting, handicap shower accessibility, skills training classes, and transportation services. Our offices are located in Philadelphia and Allentown, Pennsylvania. For more information about our companion services, contact us to book an appointment today.